Contact-Z Electrical Contact Cleaner - 10ml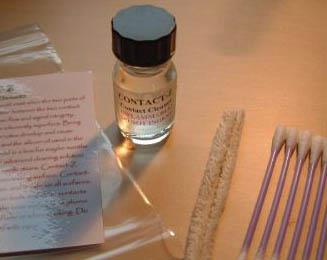 The highly acclaimed Contact-Z is an incredibly effective electrical contact cleaner, which should be used to clean all the plugs and sockets in your hi-fi system
Everything will benefit (even down to the speaker terminals), and we have found incredible sound quality improvements are to be had following cleaning of very low-level signal connections, such as Cartridge pins and Turntable phono plugs. CD Players sound better & A/V systems in particular benefit both in sound and picture quality.

The superb Contact-Z will work its magic on both nickel and gold plated contacts.

Use this fluid to clean all the connections in your system.

Originally developed for the Aerospace industry, Contact-Z does not contain CFCs and is safe on all plastic, metal, fabric, rubber, paint, and glass surfaces. It leaves no residue & is fast evaporating. It will completely remove all traces of contaminates on any connecting surfaces.

Contact-Z comes complete with 6 cotton buds and two tapered pipe cleaners - which are ideal for cleaning the inner surfaces of phono sockets.

10ml bottle.