SRM Arezzo Kinetic Drive Upgrade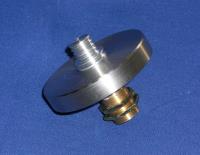 The Arezzo Kinetic Drive is optimised for 33rpm vinyl playback, as this speed is used predominantly by most people.
When playing at 33rpm all 5 belts are utilised - a short belt drives the flywheel from the motor, and this runs under the Arezzo subplatter. 3 belts then drive the subplatter from the pulley on the flywheel and a further belt drives from the motor to the subplatter. This gives the Arezzo Kinetic an extremely stable and positive drive by smoothing out the power from the motor.
When 45rpm is required, the flywheel is still driven from the motor however 2 belts then drive the sub platter from the motor.
The flywheel/pulley assembly is a precision machined component which, like the Arezzo main bearing, uses a Tungsten Carbide spindle with phosphor bronze bushes ensuring silent operation and very long life.
This upgrade is very easy to fit and brings the Arezzo up to Arezzo Kinetic specification.