Telos 24k Gold-Plated Banana Plugs (pair)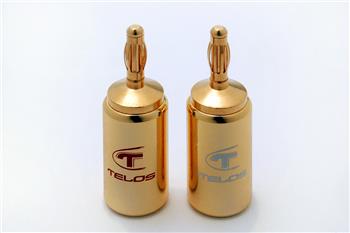 Highest quality Gold-Plated Copper Banana Plugs

Once the signal first starts to transmit, there are many obstacles to go through before music is reproduced. Among them, various terminals to relay signals are more important.

The moment the terminals start to work, their quality almost decides the success or failure of music reproduction. Telos realizes how great of an effect of a terminal can be. Hence we make refined pure copper the base of the terminal to shield off any electromagnetic interference (EMI) and radio frequency (RF) noise.

After plating with 24 karat gold, not only can it protect the terminal from oxidation, which affects the quality of transmission, but it can also escalate the magnificence of the music.

Adding exclusive formulated materials makes the various terminals unify their resonance, completely achieving Telos' technical concept of mechanic balance.