Uncompressed World Vol 2 - Female Voices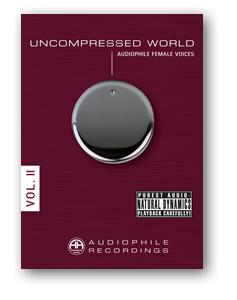 Sorry, temporarily unavailable
Accustic Arts of Germany has produced this superb sounding 15 track audiophile CD spotlighting the female voice

It was in fact a small experiment when in 2009 the record Label ACCUSTIC ARTS AUDIOPHILE RECORDING was founded. Yet one year later with the issue of UNCOMPRESSED WORLD Vol. 2 it is clear that the experiment has succeeded. There are many music lovers who appreciate our compilation series dedicated to the audiophile work of producers, audio engineers and musicians. We are very happy about the positive feedback of the first volume and have decided to carry
on with Volume 2.

Where volume 1 included 13 instrumental tracks, with Volume 2 we now present a total of 15 different, excellent recordings with the focus on the female voice. Thus volume 2 features voices of 15 female singers from Europe and the US. The voices are all different and yet they have something in common: the tracks have a high musical and excellent sound quality. Along with a number of well-known names, there are also singers on the CD who are mostly unknown to the listener. Let yourself be pleasantly surprised by the recordings, just as we were in the course of our extensive research and pre-listening activities.