Bel Canto Design C7R DAC/ Integrated Amplifier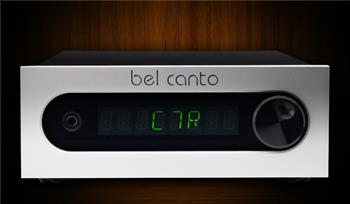 The C7R DAC Integrated Amplifier powers it all, digital, analog, computer, Phono MM and analog FM Tuner all in one cool running compact component.

The C7R is built on the convenience of one component connecting your analog and digital source material, providing an uncompromised audio experience. The most complete integrated amplifier, Low jitter, low noise and power isolation delivers startling dynamics in your music.

Bel Canto's e.One C7R DAC Integrated Receiver connects your Computer, CD transport, Turntable, Analog FM tuner, Cable box, Game console providing full control of your media through one component. Just add a pair of speakers and the listening room is open!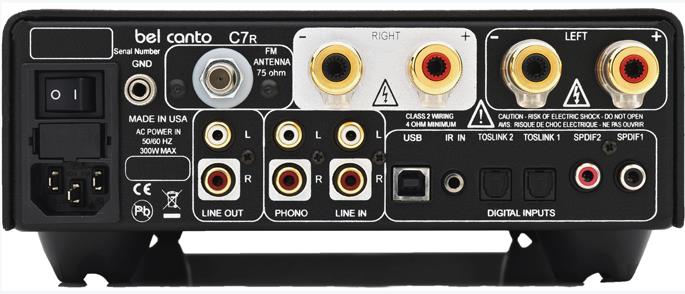 The Bel Canto C7R has an outstanding 115dB dynamic range and our proprietary low-noise D-to-A convertors are based on our award-winning DAC circuit. The high current amplifier is enhanced with our proprietary Reference power filter design. The C7R has five digital inputs; RCA, TOSLINK and 24/96 USB. The analog section has one pair of RCA and RCA MM Phono inputs. The Analog FM tuner features patented analog FM receiver architecture and superior RF performance that rejects interference using digital IF processing. Digital signal processing (DSP) allows precise pilot rejection, selectivity, and unmatched audio quality as the digital IF section operates at 24-bits.The core 24/192 D-to-A converters are based on our Two-Stage Master Reference Ultra-Clock™ circuitry ensuring that jitter from any source is reduced below the audible threshold.

The 24-bit digital volume control is completely transparent and accurate throughout the volume range. The engineering detail that Bel Canto is known for calls for custom 0.1% audio grade resistors, class-A output control circuitry, and low-noise power supply components. The heavy-gauge all-steel chassis design prevents mechanical resonance from compromising the audio signal quality. The stereo amplifier section is based on an elegant switching output stage that eliminates thermal distortion mechanisms caused by changes in operating temperature. The front panel features a single multifunction control knob that selects inputs and volume level for the main outputs and ¼" front-panel headphone jack, providing flexibility and control with a simple user interface, easy to read full display and full remote control.



The C7R with the CD3t completes your electronics


Specifications

Power Output 1% THD: 120W 4 ohms, 60W 8 ohms per channel

Minimum Load: 3 ohms per channel

Peak Output Current: 30 amperes

Frequency Response: +/-3 dB 1.5Hz-90KHz, 4 ohm load

THD+N: 0.003% 1W, 1KHz, 4 ohms

IMD (CCIF): 0.0003%, 1W, 14:15KHz, 4 ohms

Output Noise: <50uVRMS A-weighted 10Hz-20kHz

Damping factor: >200

Output Impedance at 100Hz: <20 milliohms

Dynamic Range: 115dB

Input connections: 5 Digital Inputs, MM Phono, and Line Level Analog

Line in impedance: 11 Kohms

Phono in impedance: 47 Kohms//150pF

Phono in sensitivity: 2.5mV - 7mV nominal cartridge output range

Phono accuracy: +/-0.25dB, 50Hz-15kHz

Output connections: 2-sets of WBT Next Gen Binding Posts, RCA Line Out, Headphone Output

Line Out Impedance: 100 ohms

Power On usage: 14W

Power Off usage: 0.0W

Internally Set Operating Voltages: 100-120VAC or 230-240VAC 50/60 Hz

Size: 8.5 x 3.5 x 12", 216 x 88 x 305mm (W x H x D)

Weight: 13lbs, 6.5Kg


FM Section:


Input Frequency Range: 76-108 MHz

Sensitivity with 75 ohm input: 1.1uV EMF (S+N)/N=26dB

Sensitivity with 75 ohm input: 1.1uV EMF (S+N)/N=26dB

Input IP3: 105 dBuV |f2 – f1| > 1 MHz; f0 = 2 x f1 – f2

Adjacent Channel Selectivity: 50 dB +/- 200KHz

Alternate Channel Selectivity: 70 dB +/- 400KHz

Frequency Response: 30Hz-15Khz -3dB

S/N: >63dB

THD: ><0.1%


Features and specifications are subject to improvements and changes without prior notice.


Also available in Black.




Click image to enlarge