Elvis Presley - Golden Records Vol 3 (180gram)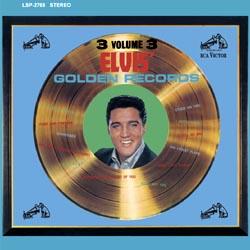 RCA LSP-2765
"Golden Records Vol. 3" - Elvis Presley (g, voc); and various bands

It takes a great deal of imagination to find suitable titles for LP series containing chart breakers. With a view to the King of Rock 'n' Roll's vast number of smash hits, the marketing department wisely decided not to use the inflationary superlative 'Best Of'. The first album was entitled "Golden Records", while the second probably justifiably claimed that "50 Million Elvis Fans Can't Be Wrong", but Volume 3 was limited to the simple statement "Great Hits". The first two compilations concentrated on wilder numbers in the main whereas the present album contains a selection of Elvis's more lyrical songs. Have fun comparing this compilation with your own favourite selection of Elvis's romantic ballads and tear-jerking songs which are in your head and your ears. No sensitive Elvis fan will want to miss a single one.
Let's carry on in the same vein as the original release and do without an express recommendation for this album. It's absolutely unnecessary – because anyone who buys it knows exactly what he's getting with this LP, and what he'll get out of it too.