Goldring 1042 MM Cartridge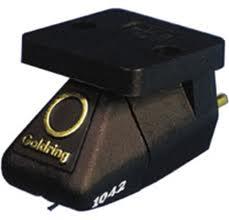 The 1042 is a cartridge for the audiophile who demands the ultimate performance from his system. The extended groove contact of it's Gyger S diamond gives the 1042 unsurpassed resolution of fine groove modulations, producing an exceptionally detailed, smooth and musical sound quality.

The Goldring 1000 series are advanced moving magnet designs that embrace all the advantages of modern phono-cartridge technology, including improved tracking ability and user-replacement stylus assembly allowing the immediate replacement of worn or damaged Styli. The 1000 Series cartridges all share the same strong, one-piece body made from Pocan, an ultra-rigid glass-reinforced polyester. All fixed parts can be held securely in place and the body can be tightly bolted to the headshell. The 1000 Series are endowed with a highly efficient magnetic circuit which makes for a smooth and extended frequency response.

Goldring maintains a vital presence for hi-fi enthusiasts dedicated to vinyl. The company has been a pioneer in the field of high quality recorded musical reproduction for over 80 years and is widely regarded as one of Europe's most respected audio equipment manufacturers.

The only serious British manufacturer of pick up cartridges, Goldring is using its vast experience and knowledge to design and produce an advanced range of cartridges at all price levels.

Goldring cartridges are designed and and built by British craftsmen. This page reflects Goldring's total commitment to accurate analogue replay and the care of your vinyl record collection.

Goldring designs and builds cartridges in England at a modern factory in Bury St Edmunds, Suffolk. The first stage of design involves detailed research and development which takes into account both market factors and technicalities such as materials, geometry, compliance, sensitivity, damping, mass and tracking ability.

After successful evaluation of design sketches, working prototypes and finally listening samples, costly tooling is paired for initial manufacture. Jigs and fixtures are used to assemble the cartridge parts to the exacting tolerances demanded by Goldring. All cartridges are rigorously tested using microscopes and shadow projectors to ensure optimum standards of performance and reliability.

Specifications:
• Output: 6.5mV
• Frequency Response: 20~20,000Hz
• Load Impedance: 47 ohms
• Channel Separation: 25dB
• Channel Sensitivity Difference: 2dB or less
• Tracking Tip: Gyger S
• Compliance: 16mm/N

Review

"One of the best MMs at the price..." - Hi-Fi World


Read the TNT Audio review here


FREE! GrooveWorks Deluxe Stylus Force Gauge included. $75 value FREE!