Milty Zerostat 3 Anti-Static Gun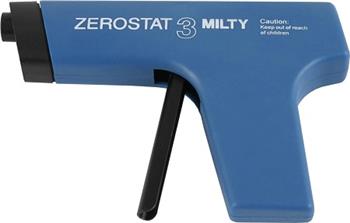 MIlty's Zerostat is a very effective way of eliminating static from records after play, so that your platter mat stays in place and you don't hear that crackly sound as your LP attracts every dust particle in the house.

Operation is simple: point the gun at the object you want de-staticised and SLOWLY pull the trigger. If you hear any "clicks" you've pulled it too fast. Whatever you do, DON'T press the "muzzle" against any part of your body and squeeze the trigger. It really hurts!

This amazing little device known as the Zerostat Antistatic Gun is an antistatic "generator" which has numerous applications in any microscopy laboratory. Just squeeze the "trigger" of the Zerostat and a steady stream of ions is released. The "magic" comes from two powerful piezoelectric crystals and a patented compression trigger.

In the laboratory, the Zerostat keeps film, glass, plasticware, and lenses dust and lint free. It also prevents charged particles from flying during weighting or transfer of particles. And the Zerostat gun finds wide use among those who possess and maintain phonograph record collections.

Each Zerostat unit is shipped with complete Use Instructions and also, information about a special "Test Procedure" to validate that the unit is working properly.

How it Works
Each Zerostat unit has a "two cycle" type of operation, when the trigger is squeezed, positive ions are generated and when the trigger is relaxed, negative ions flow. This means that it is possible to induce a charge on a neutral surface using the Zerostat. If the trigger is squeezed, and the Zerostat is then removed from the surface (and before allowing the trigger to return to its original position), a positive charge will be induced. Similarly, pointing the Zerostat at the surface only for the release of the trigger will induce a negative charge.

Watch a demonstration here

How much charge is given off?
Each squeeze of the trigger results in a discharge, when stated in units of charge, is 1.5 Coulumbs.

How long will it last?
One can reasonably expect on the order of 10,000 such "squeeze cycles" during the lifetime of the Zerostat unit. The Zerostat needs no batteries or electrical supply nor does it contain any radioactive components.

Where can it be used?
The Zerostat gun, theory, will work in any atmosphere, but we would add great caution before using it with or in proximity to flammable or combustible gases/liquids.

Spare parts:
The Zerostat 3 is designed to be a disposable (throw-away) product. It is not built to be taken apart and there are no replacement parts.