Quadraspire Sunoko-Vent T SVT 4 Shelf Rack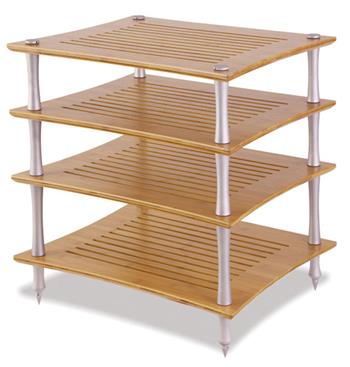 Quadraspire's new Sunoko-Vent T will revolutionise your system.
The new SVT version incorporates Quadrespire's new Tension Technology. This new technology uses a solid brass collar system that is under so much tension it dissipates vibration away from the electronics and through concave aluminium columns delivers a clearer, cleaner musical performance.





Each Sunoko-Vent T shelf is 25mm (1") thick and is made from real wood veneered mdf and can hold equipment up to 120 kilos in weight whilst the slotted shelves keep mass low and provide maximum ventilation for the equipment


Specifications

- The Sunoko-Vent T is available in 2 sizes SVT and SV2T. The SVT is designed to hold standard sized hi-fi whilst the SV2T is double the width and can hold both hi-fi and AV components.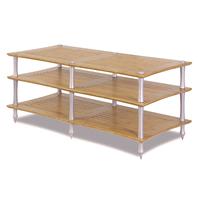 Click image to enlarge



- The Sunoko-Vent T is modular and comes with 32mm diameter aluminium columns available in 6 different heights – 100mm (4"); 140mm (5 1/2"); 180mm (7"); 216mm (8 1/2"); 256mm (10") and 326mm (12 3/4").

- Each shelf is made from 25mm (1") thick real wood veneered mdf, available in 6 different finishes – Oak, Maple, Natural Cherry, Dark Oak (Wenger) and Black.
(Glass and Sand Blasted Glass shown below are not available)




Being real wood each shelf is unique in its natural
beauty and therefore subject to variation in grain
and colour.








Its flexibility allows you to build the rack to your own specification to fit any number of components – use Product Builder to build your rack online.

Options

Extra Shelf with set of 32mm Columns or Feet: $450.00
QCST Castors (set of 4)Black or Silver: $100.00
QC Floor Protector (set of 4) Silver/Black: $40.00
QX7 Floor Protector (set of 4) Silver: $180.00






Please email for shipping quote.