Microfibre Record Cleaning Cloth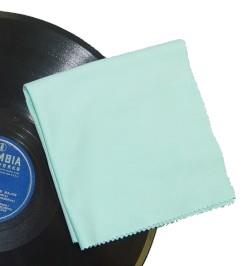 Ultra soft, washable split microfibre cloth.

Microfibre is a man-made product that combines two basic fibres, Polyester and Polyamide, producing fibres with a thickness less than a human hair that have been split 16 times into a "V" shape.
The fibres are then woven into a fabric of 80% Polyester (the scrubbing and cleaning fibre) and 20% Polyamide (the absorbing and quick drying fibre).
The surface area of the cloth is increased by over 15 times, creating millions of crevices which trap and hold water and debris, making this cloth one of the most absorbent materials on earth.

This extra large towel is super absorbent so you can dry a number of records. The smooth surface will baby your precious record grooves and is completely lint free.

375 x 300mm in light blue.