SRM Athena/Tonearm/Cartridge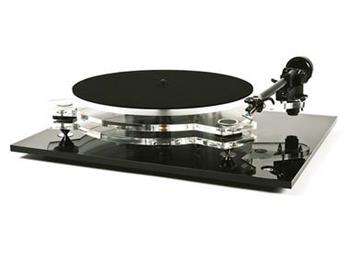 Sharing many design features with SRM's award-winning Arezzo, the Athena will outperform other turntables in its price range. One only.

Please note: the black isolation platform in the picture is not included in the price.

The Athena uses the same electrics, motor, pulley and belts as the Arezzo for low noise, rock solid timing and incredibly low wow and flutter - Hi-Fi News lab report measured it as 0.02% wow and 0.04% flutter!

The Athena has had three superb press reviews: Hi-Fi News reviewed the Athena SE (identical performance but graphite grey and gold finish) in the October 2010 issue, The Greek magazine High Fidelity reviewed it in the February 2011 issue and Hi-Fi Choice have just given it a '5 star Recommended' rating in the current (September) issue.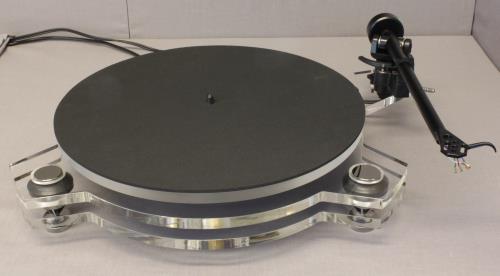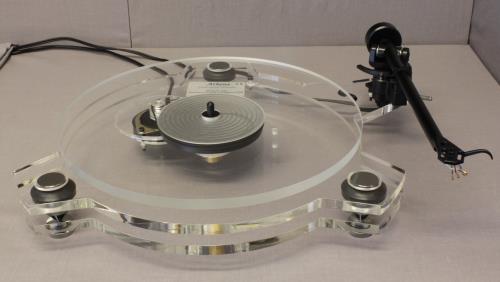 The Athena is visually striking as you can see by the pictures, however, clear acrylic is very hard to photograph and everyone remarks on how much better it looks in the flesh (so to speak) than the photographs. As with all SRM's turntables though, beauty is more than skin deep and absolute performance was the aim when Stuart designed it.

Major design features

- Resonance controlled two part clear acrylic plinth with high tensile fittings ·
- Three point 'Rigid + Compliant' isolation system utilizing coned feet and sorbothane domes ·
- High quality low voltage synchronous motor with SRM modifications ·
- Separate power supply and motor control box ·
- 'Duo-Drive' Twin belt drive system ·
- Clear extruded acrylic platter with Arezzo platter mat ·
- Newly designed high quality 'zero play' main bearing with special lubrication ·
- Newly designed machined polymer sub-platter with platter isolating disc ·
- Moth Mk1 tonearm and Rega Bias2 moving magnet cartridge


Free shipping within Australia