Voodoo Magneto Power Cord - 1.8m - C5 Cloverleaf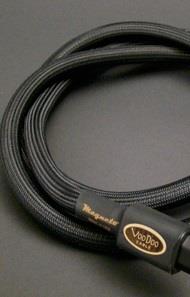 Ideal for those looking to upgrade a Rega DAC, or any other component with C5 connectivity.




Click image to enlarge

If you are thinking about upgrading from stock power cords that were supplied with your components, or if you have been skeptical about the improvement that a well-designed AC powercord can do for your system, the Magneto Powercord will leave no doubt in your mind by significantly enhancing the sonic performance of any component in your system.

This Magneto Powercord is made with #12 AWG high-purity copper conductors that deliver clean, stable and quiet AC power for any audio or video component that uses a C% connector. Each conductor is insulated with cross-linked polyethylene dielectric and wound in a common-mode circuit to achieve the highest capacitance with a balanced inductance field.

All of the wire and connectors used to build the Magneto Powercord have been cryogenically treated in Voodoo's cold fusion deep-immersion process to structurally align and fuse the molecular bond in the conductive metals for optimal sonic performance. The cord body is sheathed with abrasion resistant mesh sleeving over a polyethylene jacket for optimal flexibility and long-life durability.