Hi-Fi News Test Record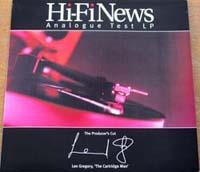 An essential tool for every vinyl enthusiast, the Hi-Fi News Test Record allows the testing of all of the important settings and comes with a very versatile multi-discipline, alignment protractor.

Released on 16th September 2002, the 'Producer's Cut' is the successor to the original HFN Test LP, first pressed in 1996

Len Gregory, The Cartridge Man, who produced the original version, had over the years concluded that there were a number of improvements that could be made to his earlier work which in the four years since it's release had sold an amazing 10,000 copies around the world.

He went back to Graham Durham at The Exchange for a new recording session, to re-cut the original tracks, to add a frequency sweep track and to extend the Pink Noise tracks. Then it was off to Pallas in Germany to arrange for production, their best quality Audiophile pressing on 180gm virgin vinyl.
The resulting mechanical quality is excellent, flat, stable and quiet, everything that an audiophile pressing should be!

In total, there are now seventeen tracks. Side one covers channel identification and phasing, pink noise, and bias settings (Four tracks at increasing amplitudes). Side two contains tracking ability bands at the outside, middle and inside of the disc, cartridge/arm resonance and alignment tests, full frequency (20Hz-20Khz) test and a residual noise test. All bands are separated by locked grooves.

The package is completed with the inclusion of a unique, multi-discipline, alignment protractor, a truly universal device that can be used to set up all sizes and types of arm to fine degrees of accuracy, a reprint of the seminal article by John Crabb on the theory and practice of arm/cartridge alignment, and copious sleeve notes to take the user through the set up procedure step by step.

This is something that every serious vinyl enthusiast should own.