Acoustic Revive Phono 1.2 Triple C - FM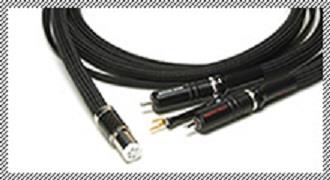 Acoustic Revive Solid Core Phono Cable

Manufacturer's description
All audio cables (such as line cables, speaker cables, digital cables and headphone cables) should take away nothing and add nothing to or from the transmission signal, we at Acoustic Revive consider such a cable is the ultimate audio cable.
Based on this philosophy, we abandoned the preconceived idea to develop "Single core cable" which transmits a source signal accurately without any incidental sound.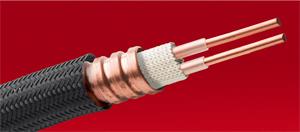 PCOCC-A used for Single-core cable is an annealed version of PCOCC (mono crystalline high purity OFC) that was devised by Dr. Atsumi Ohno, Professors emeritus of Chiba Institute of Technology in Japan.
The annealing process is necessary for any material to be used as an audio cable. These materials are affected by this process, introducing unwanted impurities into the crystal grain structure.
PCOCC originally does not have crystal grain, and so there is no possibility of impurities being introduced during the process. It maintains its high purity even after the annealing process converts it to PCOCC-A. The crystal structure gives the best conditions for uniform directionality.
PCOCC is a hard material due to mono crystal structure, but once it is annealed and converted to PCOCC-A, conductivity improves and the material itself becomes flexible making it easy to use.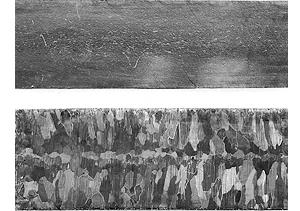 Section comparison between PCOCC (above) and TPC general copper (below)