Sonic Immersion VT200 IBEAM Vibro Tactile Transducer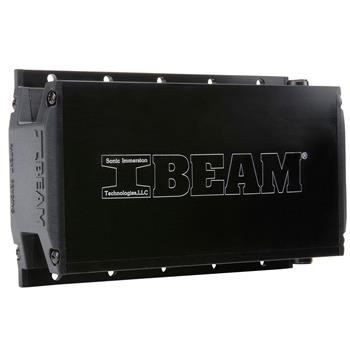 NEW! High Definition Bass for your system. Unlike other products of this type, the IBEAM™ has been specifically designed for music. The IBEAM™ transducer creates sound through vibration transfer instead of pressuring the air around you.

- Provides the ultimate deep bass
- Improves musical depth and clarity
- Makes a small system sound big
- Perfect for home theatre
- Useful for sleep and relaxation
- Ideal for cars, boats, RVs
- Huge vibro-tactile response
- Easy Installation
- Excellent Build Quality
- Huge wow effect
- Great price to performance ratio

Specifications

System: Tactile special effects transducer
Force/Watt: 1.0kg/watt (9.7 Neutrons/Watt)
Continuous Power Handling: 100 watts
Max Program Power: 250 watts
Frequency Response: 20Hz to 800Hz
Impedance: 4 Ohms
Overload Protection: PPTC self reset fuse
Dimensions: (HWD) 70 x 108 x 165mm
Weight: 1.5kg

Read the Brochure here
Read the Manual here
View the Mounting Bracket White Paper here
Read the Sleep Study White Paper here
Read the IBEAM™ White Paper here

Free shipping within Australia.
Brand:
Sonic Immersion Technologies