AIVS Down With Dirty Record Cleaning Kit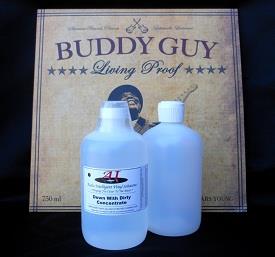 Make up to 22 litres of ready to use formula from one bottle of concentrate!


A new addition for 2013 to the award-winning Audio Intelligent Vinyl Solutions product line, Down With Dirty is a cleaning-enzyme-based concentrate formula that offers superior performance for those phonograph record owners who seek a budget cleaning solution.

Clearly superior in both laboratory and field tests to "home-brew" record cleaning solutions and other budget record cleaning solutions, Down With Dirty is based on the latest technology in enzyme-based record cleaning products and follows in the developmental and philosophical footsteps of the rest of the Audio Intelligent Vinyl Solutions product line.

The Down With Dirty record cleaning concentrate kit consists of:

- 1 x 540ml bottle of concentrated cleaning enzyme formula
- 1 x empty 500ml bottle with a dispenser cap for dispensing the mixed ready to use product
- 1 x reusable 30ml plastic measuring cup.

The Down With Dirty concentrate is intended for mixture with distilled water or water of better than distilled quality and will yield up to 22 litres (six US gallons) of ready to use formula. The ratio of the Down With Dirty concentrate can be adjusted by the consumer for tougher cleaning jobs and for pre-cleaning of dirtier than normal records.

Down With Dirty by Audio Intelligent Vinyl Solutions is a versatile and effective addition to any record cleaning tool kit.

For a PDF download of the AIVS Down With Dirty Directions For Use sheet,click here .
Brand:
Audio Intelligent Vinyl Solutions