Audia Flight Phono Preamplifier



"A superbly made product that produces superb sound" - Michael Fremer, Stereophile


Stereophile Class A Recommended Component

We are proud to introduce Audia Flight's Class A phono preamp.

A separate power supply, dedicated input preamplifier boards, high gain (74dB maximum) and low noise are only a few of its characteristics.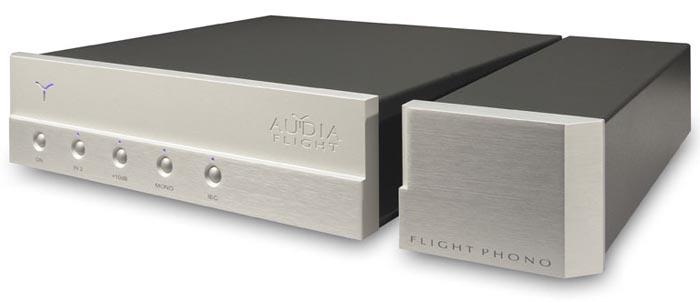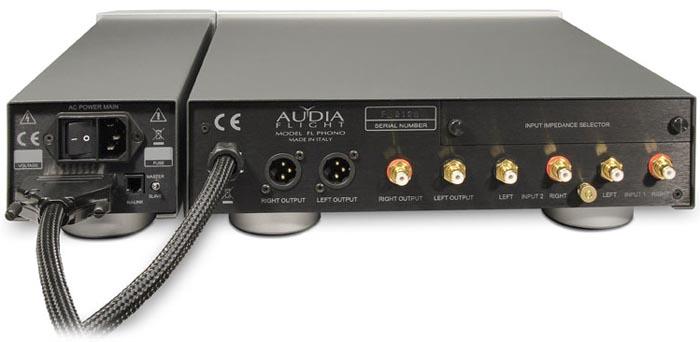 The separate power supply was chosen to improve the shield of the preamp and to reduce the vibrations and resonance from the transformers to zero.




Power supply
The Audia Flight Phono Preamp's power supply is separate from the preamp chassis. A 50VA toroidal transformer supplies the analogue stages. On it is placed the first power supply (+/- 38V).
Inside the separate power supply there is a 15VA toroidal transformer as well, to supply the relays and logic control. Previous user selections are stored in memory. To receive the commands from the pushbutton of the preamp chassis without electrical connections, several opto-isolators are used.

There is also a low noise MOSFET power supply (+/-28V) on the preamp chassis for the second gain stage and another power supply for the first gain stage (+/- 15V). Thus, there are six power supplies in total!




Preamp
The Audia Flight Phono Preamp is based on Audia Flight's current feedback philosophy. The MC and MM input preamp boards are different, because MC and MM cartridges have different electrical characteristics. The MC preamp board is a transistor input preamp with 64 dB of gain. The MM preamp board is a differential transistor input stage with 40dB of gain. Both have low noise and low offset output. On both input boards, the impedance selectors are close to the input stage and are made by professional gold jumpers. Custom resistors can also be used for precise cartridge matching from the rear panel.

After the first gain stage is the input selector, which is made with gold contact relays. Following this is the RIAA filter in passive configuration. It is made with 1% polypropylene and polystyrene capacitors. In this position, it's possible to select a subsonic IEC filter as well.

The second gain output stage, which is completely redesigned, has improved speed and signal-to-noise (S/N) ratio. The second gain stage is switchable from 24 dB to 34 dB and has a balanced XLR output.

A mono selector is an important element in achieving the best sound while using a stereo cartridge to play a mono record. The Audia Flight Preamp's mono selector sums the left and right channels together in the same manner as a mono cartridge would, which provides improved sonic performance.

The Preamp board features DC offset protection; if there is an offset voltage, this feature will protect the unit and all others connected to it.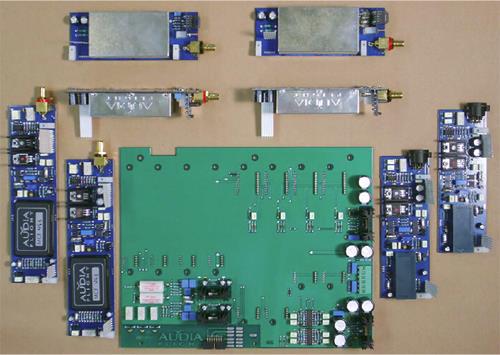 The disassembled phono preamp set is pictured above. Featured are the motherboard (middle), the input preamp boards (top), the second gain stage output boards (left), and the XLR output boards (right).



Technical Data
Gain MC 64 dB + 10 dB (74 dB in total) / MM 44 dB + 10 dB (54 dB in total)
Frequency response (1Wrsm, -3db) 5Hz - 120 KHz
THD <0.05%
S/N ratio >90dB "A" weighted
RIAA accuracy +/- 0.1 dB
Channel Unbalance <0.04 dB
Stereo separation >95 dB @ 10 KHz
MC input impedance from 7 ohm to 980 ohm in eight steps plus a custom resistor value
MM input impedance from 47pF to 600 pF in twelve steps plus a custom capacitor value
Output impedance All outputs 500 ohm
Phase Non inverted
Maximum consumption 65W
Dimensions and weight 420x92x330mm (WxHxD), 10.5 Kg
Shipping dimensions and weight 570x270x570mm (WxHxD), 13 Kg




Review:
"The Audia Flight Phono combined pitch-black backgrounds and world-class dynamic presentation with a clean, ultrafast top end and a taut, well-extended bottom end." Stereophile Class A Recommended Component

"...nothing but sonic pleasure... the Flight Phono produced music out of what subjectively sounded like an even blacker backdrop, and probably partly because of that, its soundstage presentation was among the most transparent, deep, and three-dimensional I've heard from any phono stage."
MF - Stereophile

Read Michael Fremer's Stereophile review here

Read the HiFi News review here


Free shipping within Australia