GrooveWorks Deluxe Stylus Force Gauge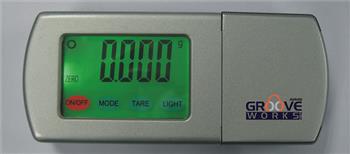 Set your Tracking Force accurately with a GrooveWorks Deluxe Stylus Force Gauge!

This deluxe aluminium bodied GrooveWorks gauge accurately reads Stylus Tracking Force to an accuracy of 0.002 grams, the finest reading available.

Setting correct Vertical Tracking Force is absolutely essential for optimal record playback. Track too heavy, the music becomes thick and sluggish - too light and the sound will be thin and anaemic…the cartridge is also more likely to mis-track.

The GrooveWorks Deluxe Stylus Force Gauge offers full metal casing, a backlit display, uses AAA batteries, and comes in a deluxe leather-look storage case. A mini screwdriver and a calibration weight are also included.

Mechanical stylus balances cannot compete with the accuracy of a digital stylus force gauge and this is one case where digital makes more sense when it comes to fine-tuning your turntable.


Features:
Calibration: Auto Calibration
Auto off: 60 Second Off
Power: 2x AAA Batteries (included)
Dimensions: 120mm(L) x 52mm(W) x 25mm(H)

The GrooveWorks Deluxe Stylus Force Gauge is an identical unit to the AcousTech branded gauge that received Editors Choice Awards from The Absolute Sound.




"…Not only is AcousTech's new gauge a relative bargain; it is small, has a backlit display, is incredibly easy to use, measures weights from 0.001 to 5.000 grams at the height of an LP's surface, and is said to be accurate to within .002 grams."
- The Absolute Sound's 9 'Must-Have' Analog Accessories – Wayne Garcia, The Absolute Sound, June/July 2007