Kimber TAK-H Silver/Copper Hybrid Tonearm Cable - 0.5m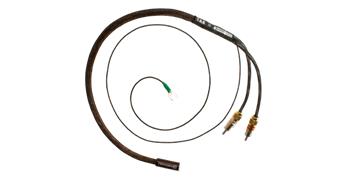 TAK™ preserves all the precious detail that can be extracted from vinyl.


OCQ/2™ (Orthogonal GyroQuadratic/2 channel) braiding virtually eliminates electromagnetic interference, radio frequency interference and crosstalk.
Proprietary shielding material drastically reduces low frequency hum.

Standard terminations are high quality 5-pin DIN to RCA or XLR.

*Pictures show DIN termination one end. GrooveWorks stocked version is terminated both ends with WBT-147 RCAs. Other termination options are available on request.

*Note: It's widely acknowledged that positioning your phono stage/preamp as closely as possible to your turntable, using the shortest possible phono cables will give the best sonic results. Long phono leads are generally more likely to pick up interference in the form of hum.


Basic Electrical Specifications TAK H
DUT: TAK H 1m terminated with Ultraplate RCA type connectors.
(Cp) parallel capacitance: 46.9 pF @ 20 kHz
(Ls) series inductance: 0.901 µH @ 20 kHz
(Rdc) dc loop resistance: 0.105 ?
Ground/Shield: R: 0.061 ?
X: 0.310 ?
(Xt) total reactance: 0.160 ? @ 20 kHz
Cross Talk @ -60dB 150.0 kHz
Frequency response ± 0.5 dB dc - 8 MHz

GrooveWorks is now offering a FREE Cable Burn-In Service with any cable purchase, using a ProBurn Cable Burn-In Accelerator (normal price for this service is $33).

Playing 100s of hours music (or special discs) can't achieve what the Proburn can do in two days. Read more about it here

As a full burn-in typically takes 24-48 hours, checking the 'Burn-In' option will naturally necessitate a delay in shipping, but if you can wait a few more days, your cables will ship to your address ready to reveal their full potential.

Simply check the 'Burn-In' option to apply this FREE service.


Free shipping within Australia.