Knosti Disco-Antistat Record Cleaning Kit Gen II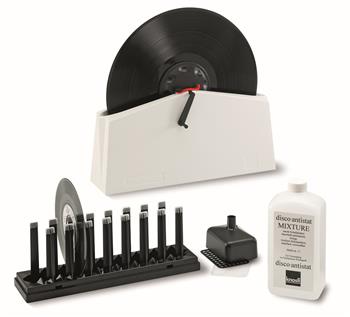 Knosti's popular Disco-Antistat is now available with a winding handle for easier operation.

"Sonically, it had to be said, the Disco-Antistat did a better job than the Spin-Clean" – Paul Rigby, Hi-Fi World

Why is Knosti's Disco-Antistat better than its competitor?

Four reasons why Knosti's Disco-Antistat is the better 'bath-type' manual record cleaner
1. Knosti uses real goat hair brushes. Bristles penetrate grooves deeper than a felt pad, therefore giving a better clean
2. Knosti's label clamp protects the record label from fluid during cleaning
3. No need to manually dry records after cleaning
4. No rollers or brushes to replace


This fantastic manually-operated machine is a dream come true for vinylphiles around the world and bridges the gap between the 'cloth and fluid' group of cleaners and the expensive machines.
Made in Germany

The affordable record cleaner.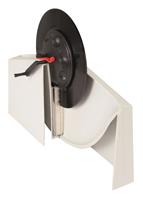 Click on image to enlarge



How does it work?

The label clamp is screwed onto the record until firm, to protect the label against the fluid. The record (with clamp attached) is then inserted into the cleaning trough, which has been filled to the height of the goat hair brushes with Mixture.
With the clamp's spindle resting in the notches on the top of the cleaning trough, the record is rotated through it's axis, several turns in each direction to dislodge dirt.
The cleaned record is then placed in the drying rack until completely dry, before popping it into a new inner sleeve (or playing it!).
The used Mixture is then poured back into the bottle through the filter papers in the filter assembly for re-use.



Want a highly effective record cleaner that's silent in operation and easy and quick to use?
...you're in the right place!

What are the reviewers saying about it?

"Not only is it remarkably good at cleaning your LPs but it's quick and easy to use and there's none of the noise and palaver associated with more elaborate alternatives. It's by far the cheapest wet cleaner on the market and to be frank, it's as effective as any other."
-Hi Fi Choice

"The results were visually impressive. All visible finger marks and dirt had been removed leaving a satisfyingly glossy surface. Before and after playings proved that this system does a good job. Surface noise was drastically reduced and clarity improved to a surprising extent."
-Hi Fi News

"We can't recommend this gadget too highly."
-AV Review

"Highly recommended" - Hi-Fi World, May 2012

"The difference is startling" - Hi-Fi World, May 2012

What are GrooveWorks' customers saying about it?

"I have used it on a couple of old GO!! label LPs I've got and it didn't improve the visual look of the records much...but the sound difference was incredible. I was truly amazed at the increase in clarity and reduction in background noise that was evident after I'd used this device. I am impressed." - R.W.

"I have always kept my records clean with the Disc####er product, cleaning with every play, and I guess I never noticed the sound deterioration as it would have been gradual. You were right about the WOW factor on this one..." - F.V.

"The Disco-Antistat product is fantastic. I have just purchased a Linn Sondek TT so I can enjoy my fairly extensive vinyl collection. The difference between before and after is unbelievable. My daughter and her husband came over on the weekend and thought I was playing compact discs, they couldn't believe the quality of some of the old Beatles and Stones albums" - B.H.

"Thanks for the excellent service and what a great product. I've spent thousands on equipment upgrades that didn't render the improvements this thing has. Nice to see there are some decent deals left in audio. It's also nice to buy from an Oz company rather than ordering stuff from overseas for a change" - P.W.

"...the Disco-Antistat is the best record cleaning method I have found" - C.S.

"I must say the thing is nothing short of brilliant, as some of my older records were totally unplayable, but are now totally silent. I can't thank you enough and I'll be recommending it to my friends..." - K.P.

"I have just cleaned my first record - a copy of Led Zepellin II my dad left me when he died. It had been played so many times you could barely hear the music under the annoying crackles and pops. I cleaned it with the Disco-Antistat and Wow!...vocals come through with a new clarity, the bass booms more and the guitar sounds even more beautiful." - L.H.

"Peter, I thought I'd tell you a story...I started my vinyl listening with a good anti-static brush $30. OK for good records.
Then I got a D4+ cleaner system...$70. Not bad, no good for real challenges.
Then I got a Disc Doctor...$100. Made a real difference but I still knew I could go further. Especially with a 40 year old copy of Clifford Curzon et al playing Schubert's Trout Quintet, which had had a long and not easy life.
The Disco-Antistat has cleaned it! A vacuum machine should do better but at 10 times the price I can wait" - J.L.

"Peter, I can only think of one word...WoW! My first experience of buying something online was very rewarding, thank you." - D.J.


Remember, always insert cleaned records into new inner sleeves, so that there is no re-contamination.
New sleeves may be purchased here

Free shipping within Australia


Dealer enquiries welcome