LAST Power Cleaner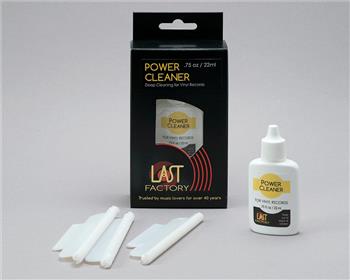 Removes all manufacturing residues

Last Power Cleaner is specifically designed to remove pressing residues and contaminants left over from the manufacturing process.

These sticky residues are tightly bound to the groove wall and attract and hold dirt and debris that cannot be removed by the usual water or water/alcohol mix record cleaner.
LAST Power Cleaner is...
- Easy to use and apply
- Efficient
- Safe for both vinyl and 78s
Just one cleaning with LAST Power Cleaner results in a record surface that is pristinely clean.

LAST makes the highest quality record cleaning products on the market. They use only the purest chemicals and triple-filtered deionized water in their formulations to ensure that their products leave no residue or impurities on your records and they are biodegradable too.

Review:
Stereophile Recommended Component 1996-2004 Class A, 10/96 p. 141, review Vol. 17, #5
'This bottle of Freon-free cleaner is enough to treat 75 LPs. JE found just three drops sufficient to remove dirt, dust, and grime from garage-sale records...... A companion to LAST's wonderful Record Preservative'

LAST Power Cleaner:
3/4 oz. bottle with 3 microfiber applicators
Number of effective operations per bottle when used per instructions:
3 drops / operation = more than 200 operations.