Musical Surroundings Phonomena II+ Phono Preamplifier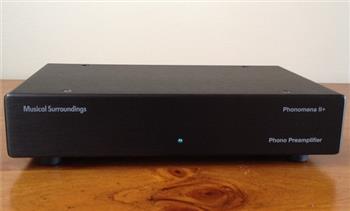 An upgraded version of Musical Surroundings' multiple award-winning Phonomena II.



Based on the discrete circuit developed by designer Michael Yee for the Nova, the Phonomena II+ has rear panel accessible switches for gain and loading.

The Phonomena II+ is a complete phonograph preamplifier with RIAA equalization that amplifies the output signal of a phonograph cartridge, either moving-coil or moving-magnet, up to a nominal "line level". It is a discrete, dual-mono design, designed and manufactured in the USA. The Phonomena II+ may be used with a receiver or an integrated amplifier. If you use separate components, a line level control unit (preamplifier) is required before the power amp, since there is no independent volume control for the Phonomena II+ unit. The Phonomena II+'s power supply connects to the wall with the supplied wall-mount transformer.






Specifications:

Gain Switches: 40, 44, 46, 48, 50, 51.5, 52.7, 53.7, 56, 57.5, 58.4, 59.4, 60dB

Input Loading Switches: 30, 40, 50, 59, 80, 100, 121, 150, 243, 280, 380, 475, 660, 1k, 2k, 50k, 100k Ohms

Dimensions: 8.5"W x 6"D x 2"T

Weight: 1.5kg

Warranty: 3 years

Watch the Phonomena II video here

Read the Phonomena II Manual here


Free shipping within Australia
Brand:
Musical Surroundings