Schubert - Octet in F Major (180 gram)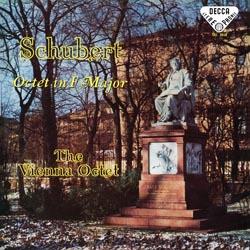 Decca SXL 2028
Franz Schubert: Octet in F major, D 803 - The Vienna Octet: Willi Boskovsky, Philip Matheis (v); Günther Breitenbach (va); Nikolaus Hübner (vc); Johann Krump (b); Alfred Boskovsky (cl); Josef Veleba (h); Rudolf Hanzl (bs)

Schubert's light and flowing Octet in F major is of great importance in both an historical and a compositional aspect. Thanks to its combination of string and wind instruments, it is akin in character to the cheerful divertimento and the contemplative serenade. That the commissioned work is very similar to Beethoven's popular Septet op. 20 with regard to the individual movements and the key relationships is by no means accidental – that was what was ordered. Schubert occupied himself with the almighty giant's composition, though for a different reason: with his own Octet he wanted to »pave his way towards writing a great symphony«, whose dramatic force and form is clearly suggested here.
Steeped in the musical traditions of the city on the Danube, the Vienna Octet is the ideal ensemble to perform this work. Led by Willi Boskovsky, who became world famous as concertmaster of the Vienna Philharmonic Orchestra and conductor of the New Year's Day Concerts, the ensemble plays with great agility, joy and togetherness from the first note on. The sound of each individual instrument comes over vividly in a natural, chamber-music-like atmosphere.