Voodoo Iso-Pod Component Isolation System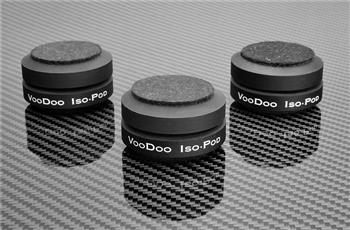 Dramatically improves musical detail and sound stage transparency





Eliminates vibration & resonance
Excellent mechanical stability
30-day money-back guarantee
Made in the USA

The VooDoo Iso-Pod Component Isolation System is a vibration isolation system that will significantly improve the sonic definition and clarity of each component in your system. The Iso-Pod design is based on the scientifically understood concept that vibrations from the electro-mechanical function of any component combined with the ambient vibration transmitted within the environment will interfere with the electronic circuitry to degrade the output signal quality of an environment component. Component isolation was developed decades ago for use in the first generation of stealth nuclear submarines.

Each Iso-Pod is made of aerospace alloy discs suspended by zirconium ceramic bearings that convert vibration into low-level heat dissipation. The Iso-Pod Component Isolation System lowers resonant frequencies of each component and isolates components from electro-mechanical vibration transfer between components, racks, the floor and other sources of environmental resonance.






Click images to enlarge

The Iso-Pod provides excellent mechanical stability in either the 3-Point or 4-Point configuration. Components will not shift or slide. A set of industrial-grade felt pads (supplied) may be adhered to each disc to protect the underside of the component from scratches, stress marks and residue stains. Each Iso-Pod supports up to 110kg. Sold with our 30-day money-back guarantee.

Dimensions: 31.75mm tall with felt pad. 50mm diameter. Maximum load capacity: 110kg each

– 3 Point Iso-Pod System – $430 for CD/DVD Players, DACs, preamps, digital amplifiers, music servers, turntables, and stand-mounted loudspeakers.

– 4 Point Iso-Pod System – $580 for Solid State and tube amplifiers, heavy power conditioners and floor-standing loudspeakers.

Review:
Read Neil Gader's TAS review here