SRM/Tech Thorens Enhancement Kit + Stage 2 mods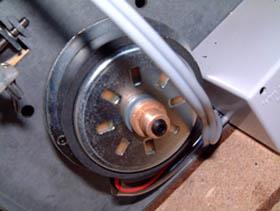 This is the incredibly effective Thorens Enhancement Kit including Stage 2 mods for the TD150/160 range. It is guaranteed to tremendously improve the sound quality of this high quality record deck

If you don't agree, we will give you your money back, simple as that!
The kit comprises:

1. Platter Damping Ring (PDR). Designed specifically for this deck - 19mm deep to fit Thorens platter perfectly. Fits tightly around the rim of the platter and acts as a Peripheral Wave Trap, effectively absorbing vibrations / resonances and enhancing rotational stability. (Shown in picture).

2. Motor Vibration Absorber (MVA). This fits tightly around the casing of the motor to reduce vibration which would otherwise be transmitted to the plinth or (via the belt) to the sub-platter.

3. Ultimate Turntable Bearing Oil. If your turntable has not had a service for a few years it needs an oil change! This is the best bearing oil available - known to Audiophiles as 'Black Oil' it contains Molybdenum Disulfide and Graphite. Makes the turntable bearing quieter, more efficient and drastically reduces wear.

4. Main Bearing Spindle Support Pad. High Purity PTFE thrust pad that sits in bottom of main bearing housing providing a friction free, non-resonant support for the bearing spindle, eliminating metal to metal contact and thus reducing bearing noise.

5. Adjustable Motor Thrust Bearing. This attaches to the bottom of the motor, allowing the motor spindle to run on a hardened 4mm stainless steel ball instead of the sleeve bearing in the motor. Result - less motor noise, lower noise floor, more information.

6. Main Bearing Damping Rings (BDR's). These fit tightly around the main bearing housing, effectively damping resonances generated within the bearing.

The damping components (PDR, MVA & BDR's) are manufactured from a particular type and grade of synthetic polymer, specifically chosen for its damping properties at the frequencies that cause problems within LP replay systems.
All items come with instructions, and we guarantee you will be amazed at the transformation. You will not believe just how good this deck can sound!