LAST Tape Preservative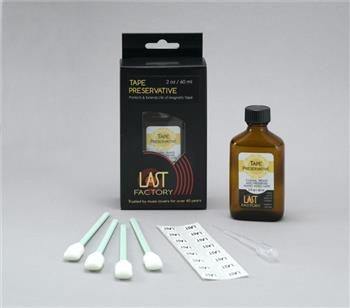 LAST Tape Preservative stops the mechanism (binder breakdown) that causes deterioration, while dramatically reducing the friction at the tape/head interface - extending tape life up to 10 times

The sounds and images of the world are preserved on magnetic tape. They can be kept alive only as long as the tape lasts. Magnetic tape starts to loose data within 8 years and can become totally unreadable within 20 years - eventually the recording is lost forever.

LAST Tape Preservative:
- Significantly reduces data loss from magnetic tape
- Increases head life
- Reduces tape wear
- Reduces tape abrasiveness
- Improves playback performance
- Extends tape life by up to 10 times

LAST Tape Preservative:
2 oz. bottle with 4 applicators.