Clearaudio Music-Pickup Test Record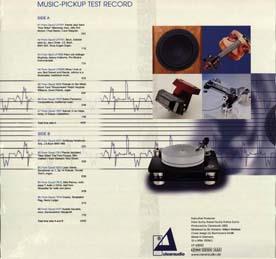 This record gives you the option of using varied music to optimize the sound of your entire hi-fi system, and to compare different components.

Perfect recording quality sound (without any manipulations such as by equalizer, mixer, or the like) is the feature of this LP, so it also makes an ideal demonstration record.

This Clearaudio audiophile 180 grams pressing is cut from the original analog master tapes, the first take.
Willem Makkee , the editor of the Emil Berliner Studios , produced the lacquer in the headquarters of Deutsche Grammophon GmbH on the Neumann VMS 80 cutting machine with a CUTTER HEAD Neumann SX 74th.

The plating of the lacquer and the subsequent record pressing is carried out in Germany. The record weight is 180g and is made of 100 % virgin vinyl. From each stamper a maximum of 1,200 pressings are created, so the edition is limited.