Icon Audio MB 845 Mk II Mono Block Amplifiers (pair)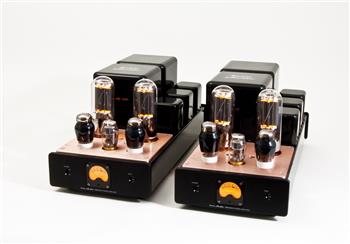 110w of Pure Triode Power
"Gorgeous liquid valve sound, oodles of power..."
"One of the finest tube amplifiers on sale, a bargain at its price"


For over 80 years this fabulous valve has reigned supreme in the field of audio. Designed by RCA with only slide rules...no computers at that time! Never bettered* and still in production it is an absolute must for those who like a big warm detailed sound.

The 845's Achilles heel is the demand it makes on the amplifier built around it. Others make the mistake of making the amplifier too complex, resulting in a loss of fine detail and strangling its ability to sing. It needs a huge power supply to breathe properly. Icon Audio's massive power and unique LDT output transformers allow the 845 to be as refined or as brutal as you wish. David Shaw has kept his design simple and big. With Vaughn Williams it will ascend to breath-taking heights, with Hendrix it will give you greasy hot buttered riffs like you never heard before. In our experience the 845 has been a very reliable long lived performer.

At 66kg (145lbs pr) they are not for everyone.
When Icon Audio first released the MB845s in the UK they were greeted with great acclaim by the Hi-Fi press and customers, for power and value, but above all their unique sound quality. They have become a reference valve amplifier for Hi-Fi World magazine.

For some people, only a large triode valve like the 845 can give the golden warm tone which is so pleasing, with its feeling of air and space and sense of realism.
The MB845 MK I has truly become a legend in the UK, but Hi-Fi fans were soon asking if there was more Icon Audio could do to improve the performance. With the MB845 MKII, they have used all their expertise to create their ultimate amplifier. Surprisingly from such big amplifiers, is how well they perform at low powers. Their agility and detailed texture of strings and vocals is quite astounding. Modern recordings demand low noise amplifiers; the MB845s will give you an "ink black silence"

The MB845 MK II features upgrades and improvements including a built in bias meter, which greatly simplifies bias checking/adjustment, keeping your amplifier in peak performance. Previously you had to pay attention to numbers on the meter. Now, if the pointer is on the black mark, it's correct. Very easy!

Specifications and Features

- Improved Tertiary winding output transformer
- Improved dual 6SN7 high current driver circuit
- Choke regulated power supply
- All hand wired point to point
- No printed circuit board to 'colour' sound
- Class A, all Triode front end
- 2x 845B precisely matched for best performance
- 1x 6SL7 first stage gain valves
- 2x 6SN7 (CV181) driver valves, choke loaded plates
- 845 AC heating for max life and max reliability
- 30.5V (approx) output at clipping point 8 Ohms*
Giving approx 20 Watts of Pure Class A
- Can be used with passive or active pre-amp
- 450mv (high) & 1000mv (low) input sensitivity.
- Signal to noise level -90db*
- Hum and noise 0.5mv (low sensitivity)*
- 6SL7/6SN7 DC heater circuit for minimum hum
- Freq response -1db points= 6Hz 27khz
- Freq response -3db points= 6Hz-57kHz
- Source impedance 0.7O (8O taps, low sensitivity)
- Damping factor 13
- Gain 67 (high) 30 (Low)
- THD typically less than 0.1% @ 1w. 0.14% @ 8w (1kHz)
- 4 & 8 ohm loudspeaker taps
- Custom hand-wound mains/output transformers using Japanese special long grain iron and low oxygen copper
- Attractive valve cover included in the price
- High quality 2W metal film, & wire-wound resistors
- SCR audio capacitors (or optional Jensen Copper foil)
- Silver plated PTFE pure copper audio cable
- PTFE audiophile valve holders for minimum leakage
- Gold plated Input & speaker terminals
- 220/240volts (115 v adjustable)
- Comprehensive manual supplied
- Full instructions for DIY valve change included
- Power consumption: 180w quiescent, (290w max sine wave) each
- Size in cm W24, D57, H28 mm ( inc cover), 33kg each (Allow space for connections and ventilation)
- Carton 2x 66x35x38cm + 1x 57x31x32 Total 84kg

(Specifications subject to change, errors & omissions excepted. Gen 30/06/12)

*The 845 is designed specifically for audio use. It is not a transmitter valve, unlike the 811 and 805, its grid cannot be driven positive making it easier to drive and more linear.

Reviews

"Amongst the best amplifiers I have ever heard..."
- Noel Keywood, Hi-Fi World. Awarded 5 Globes.



"Gorgeous liquid valve sound, oodles of power..."
"One of the finest tube amplifiers on sale, a bargain at its price"
-Tim Jarman, Hi-Fi Choice Awards 2012.




Click here for brochure