Knosti Disco-Antistat Ultrasonic Record Cleaner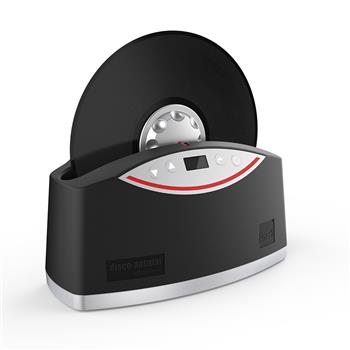 NEW - Disco-Antistat Ultrasonic - NEW

Automatic Ultrasonic Record Washing Machine


Manufacturer's description:
Disco-Antistat Ultrasonic - The most thorough way to wash records!
Our record washing machine Disco-Antistat Ultrasonic combines over 40 years of experience in the cleaning of records with highly developed, state-of-the-art cleaning technology.
The combination of ultrasonic cleaning and our proven goat hair brush system ensures gentle, groove-deep cleaning of your records and an audible improvement in the sound image. During operation, the cleaning fluid is permanently clarified by a filter system and dirt particles are filtered out to minimize impurities in the fluid and thus achieve the best possible cleaning result.
Our special cleaner treats the record anti-statically and thus permanently prevents renewed contamination by adhering dust. Our washer is ready for use in just a few steps and the intuitive operation ensures optimal results from the very first record!

The simple and intuitive handling as well as the operating elements reduced to the essentials enable best cleaning results from the first record.
The cleaning time can be conveniently adjusted to the degree of soiling of the record, supported by a functional display.
A clearly visible progress indicator informs about the cleaning status at a glance.
After use, the aged cleaning liquid can be conveniently filled back into the bottle at the touch of a button via a built-in pump.
The permanent filtering of the cleaner prevents the liquid from accumulating dirt. Thus, a consistent cleaning result is achieved.
Thanks to the innovative magnetic coupling, inserting and removing the record is quick and easy.
Driven by an electric motor, the record rotates evenly in the tank, thus achieving a homogeneous treatment with ultrasound.







Click images to enlarge

Disco-Antistat Ultrasonic
Cleanliness you can hear! A powerful ultrasonic transducer generates so-called cavitation bubbles that act directly on the dirt and remove it gently and effectively. The ultrasonic waves also reach places that are inaccessible to conventional cleaning methods and ensure cleanliness down to the depth of the groove. The loosened dirt particles are then wiped off on the soft goat hair brushes.

What's in the kit?

Ultrasonic record washer
200ml cleaning concentrate Disco-Antistat Ultraclean
1 litre high-purity water
1 microfibre cloth
Label cover incl. axle with magnetic coupling
Power supply 230 VAC / 12 VDC 3A
1 drying stand
1 sponge brush 50ml
1 Mixing bottle (for preparing the cleaning liquid from Disco-Antistat Ultraclean and high purity water)