Record Cleaning Service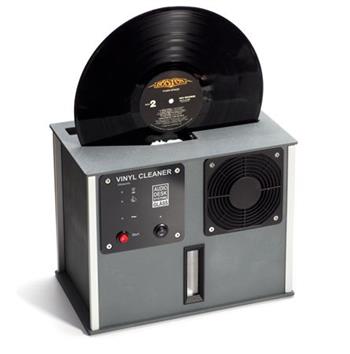 Premium quality record cleaning using the state-of-the-art Audio Desk Systeme Ultrasonic Vinyl Cleaner.

What's ultrasonic cleaning?

Michael Fremer of Stereophile magazine explains; "The Audio Desk…uses ultrasound and a process called cavitation (i.e. the forming of bubbles) to clean records, much as an ultrasonic jewellery cleaner does for jewels. If you've ever seen a tarnished piece of ornate silverwork go into such a machine and come out gleaming, even in its tiniest nooks and crannies, you know how well it works.
…the ultrasonic condenser fires up, producing soundwaves whose amplitude is high enough to break the liquid's surface tension, causing it to tear apart and leave behind millions of microscopic vacuum bubbles that compress or implode, creating tiny liquid jets small enough to clean inside even the narrowest LP groove (think of the jewellery cleaner)."

Counter-rotating micro-fibre cleaning barrels and ultrasonic waves softly remove even deep-sitting dirt particles from the grooves of the LP.


Clean.


Please note: this service is for 12" records only

This is a premium audiophile service for those who want to hear their favorite LPs projecting more detail against blacker backgrounds than they've ever heard before…in other words, sounding as good as they can possibly be using current technology. (See testimonials below)

People using this service typically have audiophile systems capable of extracting the best from the LP record but feel that their source component (the LP) is capable of giving more…and it can!

Can we guarantee that your record will sound like a new one after this process?
No, there's still no way of reversing the effects of groove wall damage or pressing irregularities…but we can guarantee that it will be as clean as it possibly can be using current cutting edge technology…and the cleaner a record is, the more undistorted recorded information is passed on through the system.

On completion of the cycle, the cleaned record is placed in a brand new premium anti-static inner sleeve, Diskeeper's Ultimate Audiophile Inner Sleeve, which is, in our opinion, the last word in luxury record sleeves.





* Optional preservation is also available, using LAST's wonderful Record Preservative which will protect your valuable record from sonic-wave fracturing for 200 plays. Read about sonic wave fracturing here






What does it cost?
1-9 LPs $5.00 per record
10-49 LPs (5% discount)
50-99 LPs (10% discount)
100+ LPs (20% discount)
Optional Preservation - $2 per record

Prices are inclusive of GST

A brand new Diskeeper Ultimate Audiophile Inner Sleeve is included in the price.

Shipping is not included in the price.



Testimonials:
Peter. They sound bloody amazing!
OK. Some of the crackle is still there, but that may well be because of contaminants embedded during pressing, damage to the vinyl and other factors.

On first listening, what your process seems to have done though is to open up the vistas dynamically, dimensionally and tonally. I have never before heard such depth and dynamics out of some of these discs.

• The Kinks 12" 45rpm - I can now clearly hear the limitations of the source tapes. There is a charm about hearing these limitations. I'm sure hearing the disc cutting master tapes themselves would not yield much more information. I can also now tell the "cheapness" of this compilation.
• The Kinks - Misfits. Mobile Fidelity Original Master Recording - This one is now in 3D! The bass extension is now defined and tight. The placements of the vocals have a beautiful air about them. Instrumentation is now more subtle.
• Simon and Garfunkel - BOTW Japanese SQ Quadraphonic edition - I've listened to this album since 1969! For the first time I've heard detail I never knew existed. Paul Simon's acoustic guitar has a depth and body to it, even while the drums and the bass are pounding away. The difference in vocal textures between both singers is now more obvious!
• YES - Union. German vinyl edition. Better noise floor. This edition now kicks the CD's arse! No contest! Some crackle still persists.
K.S. – Victoria

"Peter,
Thanks very much for your Audiophile service.
It's just nice to know in this day and age,there are people who care!!!
The records have come up a treat and those inner sleeves are fabulous."
C.I. - Victoria


Please email here or phone (03) 5628 4428 for more information.