Tidal Audio Contriva G2 Loudspeakers
The performance of a TIDAL system is like no other and knows only one competitor: reality.
Tidal - we build emotions
Now demonstrating. Phone 0414 755 960 to arrange an audition.

"The finishes were just out of this world, there is nothing perfect in this world of ours but these finishes from TIDAL were super close to perfection."

"Just to give you more of an idea of just what an exclusive luxury they are: Master craftsmanship flaunted down to even the smallest feature, in a way only the best of the best can. In terms of quality and attention to detail, it just doesn't get better than this."

"One look at the speaker will tell you why that is — that finish is crazy. That's not hours worth of labor, pulling that level of luster off of that natural wood veneer, that's weeks. There really is nothing that looks like this on the market today — anywhere. And when they say "piano black", just be aware that piano makers have never seen this finish before. Trust me on this one...".

"There's absolutely no apology being made for their expense. This is the Rolls Royce of high-end audio, the Jaeger LeCoultre of watchmaking. Is there better? Is there more expensive? If you're buying at this level, you know that these aren't the questions that matter. At this level, it's more about fit — that is, does this fit you? Because whatever else there is, that "else" just isn't Tidal."

"As with all Tidal gear, the fit, and finish is unrivalled in high-end audio, and exudes a level of quality, and commitment to beauty that has to be seen, and touched to be believed."

"...it showcased the capabilities of a manufacturer whose obsession with quality in design, materials, circuit concept, fit, finish, and musicality borders on the religious."


THE SOUND
Real. True. Pure. Music. Tidal systems do not introduce any coloration, nor 'the sound of hifi'. Tidal leaves such things far behind. The performance of a TIDAL system is like no other and knows only one competitor: reality.
Extended listening will reveal that our components do not suppress details, induce fatigue, or impart their own tonal character.
We recommend that you simply trust your own ears and listen to TIDAL to decide for yourself. Actual listening will quickly reveal inherent musical qualities that tests and reviews cannot effectively communicate. These claims may generate heightened expectations - we will easily exceed them.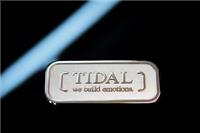 TIRADUR
The cabinet of the TIDAL Contriva is made out of TIDAL's proprietary cabinet material TIRADUR. This cabinet material does combines the rigidity of hard materials such as metal with the resonance absorbing behavior of softer materials such as wooden materials like MDF.
It is the only advanced cabinet material allowing to use organic surfaces such as our famous polished veneers, as well as true polyester piano lacquer. So when you see the Contriva in the most beautiful pyramided mahogany, ebony macassar or our shiny black piano finish - don't make the mistake to think the cabinet is out of wooden materials or MDF.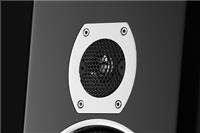 DIAMOND TWEETER
The TIDAL Contriva has an Accuton 30mm pure diamond diaphragm tweeter. Not only it is the biggest diamond tweeter in the world, TIDAL also was the very first company at all using a 30mm diamond tweeter. While the driver itself offers already terrific qualities and is being installed in a massive housing out of polished stainless steel for optimized resonance control - only in combination with our unique TIDAL crossovers this driver can perform in way what we have become famous for.
Maybe interesting to know on a side note: this very same diamond tweeter technology is being used also in the worlds most exclusive car, the Bugatti Chiron.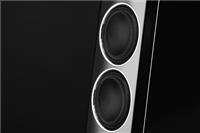 BCC MIDRANGE WOOFER
TIDAL's exclusive BCC driver technology is the result of the Accuton TIDAL cooperation for more than a decade and are to find only in TIDAL speakers. The diaphragm itself is a special coated black ceramic diaphragm and uses a "short coil / long gap" neodymium motor perfectly designed for the hermetically sealed and asymmetrical designed midrange chamber of the Contriva.
Embedded in a special shaped ring out of hand polished massive stainless steel to avoid reflections form the protection grill, needless to say that this driver does guarantee absolutely no compromise for the performance and reliability.


BCC WOOFERS
Also the woofers in the TIDAL Contriva are the exclusive BCC drivers and are to find only in this very particular TIDAL speaker. The drivers was designed to play within the vented bass chamber with its big inner volume to play extremely deep, fast and without compression, at lowest and highest reproduction level.
The motor allows a very long and linear excursion of the both side coated black ceramic diaphragm, the hardest and yet lightest diaphragm technology in this size on earth yet.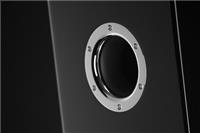 TIDAL AEROTUNE
The TIDAL Contriva is designed to be adapted for the deep bass response with our unique AEROTUNE system at the backside of the speaker, to play perfect at any room.
The massive ring out of hand polished stainless steel is not only our famous detail and does reflect our love to details, it is designed to control fluctuations from the air and does clamp the bass reflex port out of non-resonating material absolutely tight in to the TIRADUR cabinet.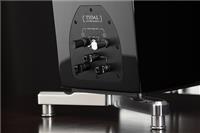 VARIO TERMINAL
Like all TIDAL loudspeakers the Contriva has our unique pure silver binding posts. The complex construction out of a fibre-reinforced polymeric material avoids any inductive electromagnetic field and as conductor we use pure silver to guarantee the most little resistance and no loss nor change of the incoming music signal.
The massive metal feel of the knobs itself is coming from that it is hand polished and structured aluminum over an isolating part out of another polymer. The Contriva does allow single-amping, passive bi-amping and active bi-amping and the adjustment curve of the diamond tweeter.


PASSIVE CROSSOVER
Mounted in a hermetically shielded chamber: pure copper foil capacitors, coils of the same caliber, silver-carbon resistors - only the finest components with proven long time stability are used for our crossovers. Unfortunately, these components are also the most expensive ones and are custom-built for TIDAL. Whether any part must be that expensive is a meaningless question and, for one thing, not one that should arise from budgetary restraints. Only the final result is what counts to us and considerations of cost do not enter into the equation.
Our guiding principle is to present our customers with the highest possible degree of reality in musical rendition. Anything less is already amply available but does not meet TIDAL's demands. That is why literally every component is scrutinously evaluated and selected on the understanding that it has be the one without alternative for its specific purpose.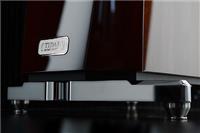 VARIO FEET
As option the Contriva could be equipped with 4 massive stainless steel isolation feet per speaker, serial delivered with each pair. Each of it is milled out of a massive block of stainless steel and is hand polished to perfection.
One could mount the speakers in a parallel or sloped position. Needless to say that these massive metal parts are also 100% handmade here in Germany.

-----------------------------------------------DETAILS----------------------------------------------------------------
- multi chamber cabinet made out of TIDAL's proprietary cabinet material TIRADUR
- 1 x 30 mm (1,2") diamond tweeter TAD-30 (an exclusive Accuton TIDAL cooperation)
- 1 x 173 mm (7") BCC midrange woofer with SCLG underhung neodymium motor TACM-170 (an exclusive Accuton TIDAL cooperation)
- 2 x 222 mm (9") long excursion BCC woofer TACW-220 (an exclusive Accuton TIDAL cooperation)
unique AEROTUNE-System, 2-times adjustable, makes it very flexible and uncritical in room placement.
passive crossover network with ultra low tolerance components, exclusive use of costume tailored Duelund-copper-capacitors, metalfilm-resistors, silver-carbon resistors, air-core-inductors, ultra low resistance bass-inductor
- passive crossover is microphonic and hermetically isolated in a separated chambers
- total weight of the passive crossover construction: 16 Kg / 35 lbs.
- adjustable diamond-tweeter curve (hard room-refections / soft room-reflections)
- pure silver binding posts for perfect contact, isolated massive aluminum knobs on fiberglass isolation core, - adjustable bi-wiring / passive bi-amping / active bi-amping double-terminal
- special 5-part TIDAL stainless steel isolators
- optional: 8 x trigger bars out of massive aluminum, black structured or high gloss polished, the position of the variofeet can be mounted in parallel or sloped back, both on the frontside and/or backside
- serial cabinet finish: original TIDAL piano lacquer in midnight black
- optional cabinet finishes: finest hand selected veneers in TIDAL's original transparent piano lacquer.
- other finishes: on request
- the TIDAL Contriva is being delivered in 2 x ATA-flightcase for the most safest transport

- nominal power handling: 200 / 400 VA
- nominal impedance: 4 Ohm
- recommended amplifier power: > 30 watt. Very easy impedance load, no impedance drop below 4 ohm.
speaker dimensions: 126 cm x 27 cm x 48 cm / 49" high x 11" wide x 19" deep
- dimensions with vario feet (from ground to top): 136 cm high / 53" high
- speaker weight without packaging: 2 x 112 Kg / 2 x 246 lbs.
- shipping weight with packaging: 2 x 146 Kg / 2 x 322 lbs.
- shipping dimensions: 2 flightcases, each flight case is 148 cm length x 39 cm width x 61 cm height / 58" length x 15" width x 24" height




Reviews:
Please see the list of Tidal reviews and awards here.

For more information please visit the Tidal website.